RULEZ
This tournament is played with LIGA settings.
All Games Best of 3
you need 2 win if you win 2:0 you do not have to play the 3rd game.
Final Best of 5
per round you have 2days time for your games.
should be no play = DEF WIN for the active player he continuous the tournament.
if both are inactive = DEF WIN
if you know who youre next opponent in the next round You can play the game immediately.
the sooner the better!
PRICE
No prices
We play for Honor and Glory and an entry in the HALL OF FAME
RESULTS
Post Results Here:
http://www.save-ee.com/viewtopic.php?f=38&t=5946
MEETING
Tournament Starts on 1. march 2016
----------------------------------------------------------------------------------------------------

REGELN
Das Turnier wird mit LIGA Setting gespielt.
Alle Spiele werden in einem Best of 3 Gespielt
. Das heißt auf 2Siege wenn ihr 2:0 gewonnen habt müsst ihr kein 3tes Spiel machen.
Finale Best of 5
pro Runde hast du 2tage Zeit für deine Spiele.
sollte keine Spiele stattgefunden haben = Bekommt derjenige der sich bemüht hat ein DEF win.
wenn beide inaktiv sind = DEF WIN
wenn du deinen Gegner in der nächsten Runde schon weißt könnt ihr schon los spielen je früher
desto besser.
PREISE
leider keine Preise hier wird um Ruhm und Ehre Gespielt.
Es Gibt einen Eintrag in die HALL OF FAME
RESULTATE
Tragt euer Ergebnis hier ein:
http://www.save-ee.com/viewtopic.php?f=38&t=5946
Termin
das Turnier start am 1.März 2016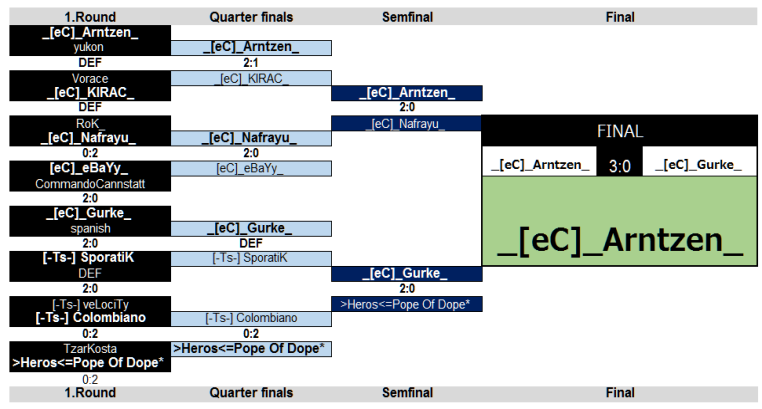 Congratulations to the Champion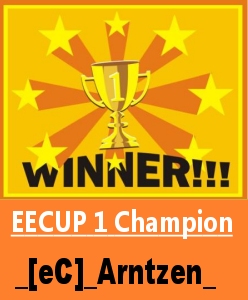 WATCH THE FINAL NOW RE-LIVE IN HD record by yukon